What is the Breast Reduction Surgery Cost in India?
---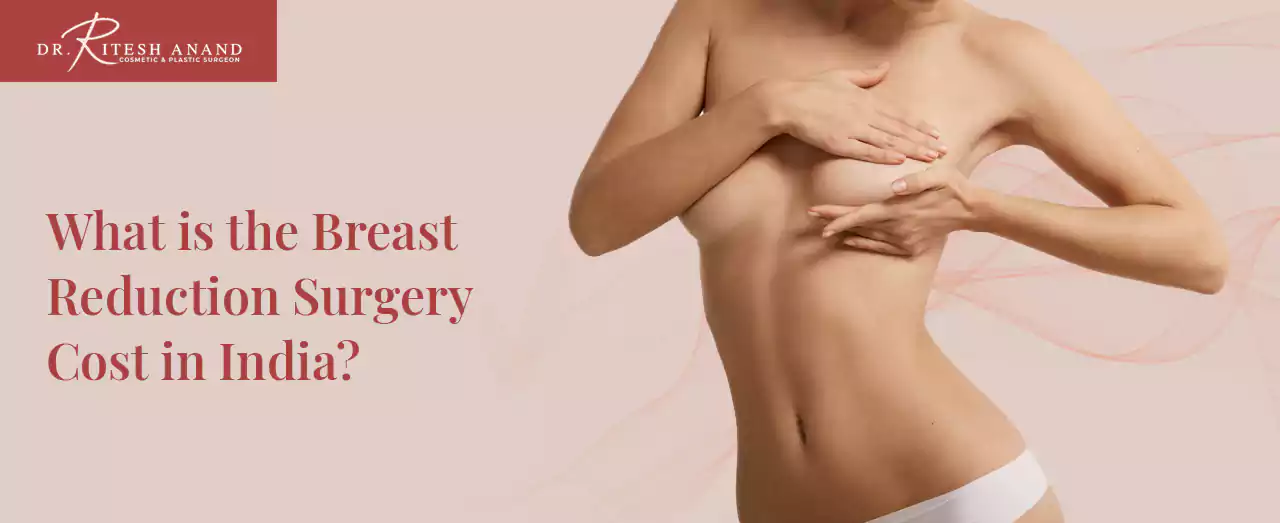 Category: Breast Lift
Are the large breasts disproportionate to your body contour? Are your breasts too heavy, making you feel uncomfortable? Or do you have a back and neck ache due to oversized breasts?
Not to worry anymore. Breast reduction surgery in females can help eliminate excess breast tissues and fat surgically while reducing the discomfort caused due to uncomforting large breasts.
Nonetheless, the advantages of breast reduction surgery go way beyond aesthetic appearance. Some women deal with painful chest, back, neck, and shoulders, and the radiating pain can be excruciating.
Women with heavy chests can make them conscious and lose interest in physical activities. While breast reduction surgery can relieve uneasiness and help boost self-image, one may be curious and sceptical about the cost.
The cost of cosmetic procedures generally is on a higher range and heavy on pockets for many. However, this article explores
Everything you need to know about breast reduction surgery in India,
The associated cost,
And why Dr. Ritesh Anand is the best for breast reduction surgery in India.
Table Of Content:
1. What is Breast Reduction Surgery?
Breast reduction surgery, also called reduction mammaplasty, is the surgical procedure that involves the removal of fat breast tissue and skin. It provides an ease and a change in appearance for those with bigger breasts. 
Breast reduction surgery should be considered if the patient has large breasts that are out of proportion to the rest of the body which leads to neck pain, back pain, and other discomforts. 
Women with large breasts who opt for breast reduction have been quite satisfied with the results. Breast reduction surgery may also be considered by men who have gynecomastia, a condition in which males have abnormally enlarged breasts. 
As breast reduction surgery is a major surgery, it is important for the recipient to be aware of the benefits and potential complications involved.
Breast reduction is a cosmetic surgical procedure that helps reduce breast size and shape of the breasts. Medically, termed as "Reduction mammoplasty," women with large breasts can undertake this procedure. This procedure is designed to remove extra tissues and fat cells from oversized and uncomforting breasts.
2. Why is breast reduction surgery performed?
Large breasts are sometimes the cause of various health conditions, such a state of health can be fixed by breast reduction surgery. Some of the troubles that people with bigger breast face are: 
Chronic back, shoulder, and neck pain
Nerve pain 
Trouble fitting into bras and clothes 
Not being able to take part in some physical activities 
Chronic rash and skin irritation under the breasts 
Shoulder grooves from bra straps
While breast reduction could help overcome the above troubles, it should, however, be noted that breast reduction in gurgaon isn't recommended for people who: 
Are very obese 
Smoke
Don't want scars on breasts
Eligible candidate for breast reduction surgery:
Individuals who may be eligible candidates for breast reduction surgery include: 
Those experiencing physical discomfort: If you suffer from chronic neck, shoulder, or back pain, as well as grooves on your shoulders from bra straps, that can be attributed to the weight and size of your breasts, you may be a suitable candidate. 
Limited physical activity: If your large breasts restrict your ability to engage in physical activities or exercise comfortably, impacting your overall quality of life, breast reduction surgery may be an option to consider. 
Emotional and psychological well-being: If you experience self-consciousness, low self-esteem, or emotional distress due to the size or appearance of your breasts, breast reduction surgery can help improve your overall mental well-being. 
Disproportionate breast size: If your breasts are disproportionately large compared to the rest of your body, leading to an unbalanced or asymmetrical figure, breast reduction surgery can create a more harmonious and proportionate body contour. 
Skin irritation and rashes: If you frequently experience skin irritation, rashes, or infections beneath your breasts due to excessive sweating and friction, breast reduction surgery can alleviate these issues. 
Breast reduction surgery cost in India
Breast reduction surgery cost in India can vary depending on several factors, including the location, the surgeons experience and expertise, the hospital or clinic facilities, the complexity of the procedure, and any additional services included in the package.
On average, the cost of breast reduction surgery in India can range from ₹1,00,000 to ₹3,00,000 or more. This estimate typically covers the surgeons fee, anesthesia charges, hospital or surgical facility fees, pre-operative tests, post-operative follow-up visits, and medications.
Its important to note that the cost may vary significantly depending on the above-mentioned factors and the specific geographic location within India.
3. The procedure of breast reduction surgery: 
Depending on the patient case, breast reduction surgery could be done at an outpatient facility or a hospital where one or two night stay will be required. In any case, patients will get general anesthesia during the procedure. The surgery takes about 2 to 3 hours to complete, sometimes longer depending upon the complexity involved.
Breast reduction surgery in guraon requires anaesthesia administration followed by essential steps, including
The surgeon makes a small incision near the areolar region (the dark region around the nipples) and at the bottom of the breasts,
The excessive tissues are removed,
The breasts are lifted to be contoured,
The incisions are closed to reshape the breasts,
The patient can visualise the results immediately post-surgery,
There are possibilities of slight swelling that eventually reduces, and incision lines fade over time,
Depending on the shape and size of breasts, the amount of tissue that needs to be removed, or the post-surgery appearance of the breasts, the surgeon could use any of the following methods: 
Vertical or 'Lollipop': This option is considered for moderate breast reductions and visible sagging. In this procedure, the surgeon makes a cut around the areola and down to the crease beneath breasts and removes extra tissue and fat, reshape the breasts, and lift it.
Inverted-T or anchor: In procedure is typically suited and done for large breast reduction procedures and for people who have a lot of sagging or unevenness.
Liposuction: In this process, the surgeon makes a small cut into the skin and inserts a thin tube connected to a vacuum that sucks out fat and fluids from the breasts. Liposuction is considered for small reduction procedures and for people whose skin will snap back into place. It is usually not a recommended method of breast reduction .
4. Breast Reduction Surgery Cost in India
The minimum breast reduction surgery cost in India starts from INR Rs. 90,000, while the average breast reduction surgery cost in India is INR Rs. 1,30,000 and the maximum amount to be paid for the surgery is up to INR Rs. 2,44,000. Breast reduction costs are highly variable in India. The cost of breast reduction in India usually depends on numerous factors, including
The technique adopted during the procedure,
The city,
The clinic's facilities,
The experience and expertise of the surgeon,
Amount of tissue eliminated,
Type of breast reduction- unilateral or both breasts.
Considering the cost-affecting factors, here is a table showing the approximate cost of breast reduction in major cities across India.
| | |
| --- | --- |
| Name of the City | Approx Cost Range in Rs. |
| Delhi | Rs. 70,000 to 1,60,000 |
| Mumbai | Rs. 80,000 to 1,50,000 |
| Bangalore | Rs. 75,000 to 1,60,000 |
| Hyderabad | Rs. 90,000 to 1,50,000 |
| Chennai | Rs. 70,000 t0 1,50,000 |
| Kolkata | Rs. 60,000 to 1,25,000 |
| Ahmedabad | Rs. 50,000 to 1,50,000 |
Please note: The costs mentioned above are subject to change.
The cost of mammoplasty can go up to Rs. 2,45,000 depending on the variable factors. However, the average cost can range anywhere from Rs. 70,000 to 1,50,000.
5. The recovery period of breast reduction surgery
After the surgery, a healing period of at least one week is necessary, in some cases it could be more than a week as each situation is different. After the surgery, your plastic surgeon in gurgaon will also prescribe some oral painkillers to ease you through the first few days.
During the recovery phase, it is important to not do any heavy physical activity for at least a month after the surgery, also lifting heavy objects should also be avoided..
 Additionally, follow-up appointments are also necessary with your surgeon for removing the stitches and bandages. 
It is normal to have an emotional reaction or a feeling of depression post the surgery, but make sure to inform your doctor about all of such concerns.
6. Potential Benefits of Mammoplasty
Breast reduction surgery comes with a bag full of benefits for those with pain and discomfort due to large, heavy, oversized, or disproportionate breasts. Some of the notable benefits include
Visible reduction of breast size,
Desirable shaped breasts,
Relief from chronic and radiating neck, chest, shoulder, and back pain,
Improved posture,
Reduced discomfort and uneasiness,
Reduced irritation, rashes, or infection of the skin, especially under the breasts,
Boosts confidence and self-image,
Ease while performing physical activities,
The comfort of sleep improves with reduced breasts.
7. Risks and complications involved with breast reduction surgery
Scars are a normal side effect of breast reduction surgery, these scars will fade over time but never completely go away. Other possible problems are: 
Infection 
Side effect of the medication that puts you to sleep during surgery 
Blood clots 
Loss of feeling in breasts or nipples, this could be brief or long-term 
Bleeding 
 Damage to nerves, blood vessels, and other parts of the body, 
Swelling and bruising 
Rarely a certain complication like inadequate healing of the nipple area could require skin graft
8. Why choose Dr. Ritesh Anand
At Dr. Ritesh Anand's clinic, you will get the best breast reduction surgery experience. Dr. Ritesh Anand is a highly experienced and qualified cosmetic and plastic surgeon in gurgaon. He has expertise in various cosmetic procedures, including mammoplasty. He prioritises the patient's requirements and treats them in-depth by understanding the underlying condition.
He has a well-trained staff and adopts high-end technology to give you the most comprehensive treatment and care for your aesthetic needs.
9. Conclusion
Breast reduction surgery or mammoplasty is a cosmetic surgical procedure where breast tissue removal and contouring are vital to relieving one with abnormally oversized or disproportionate breasts. The surgery aims to eliminate the excess tissues through small incisions and liposuction.
Dr. Ritesh Anand is the finest cosmetic surgeon who will guide you through this procedure. He has more than 16 years of experience with specialisation in various streams of cosmetic and plastic surgical procedures, including breast reduction. He and his staff will leave no tables unturned to give you the precise and desirable treatment for your aesthetic concerns.
10. FAQs
What is a good age for breast reduction?
The ideal age for breast reduction is when the breasts have stopped growing, i.e., after 16 or 18 years.
Is breast reduction painful?
Breast reduction is usually performed under general anaesthesia and does not cause pain or discomfort. However, as the anaesthesia effect subsides, pain may alleviate. The doctor usually prescribes pain relievers for post-operational discomfort, with the occasional placement of ice packs over the surgical site to reduce swelling and pain.
Are there risks to breast reduction?
Breast reduction surgery is a relatively safe procedure with minimal risks. However, rare possible complications post-surgery include
Bleeding,
Infection,
Adverse reaction to anaesthesia,
Scarring,
And bruising.
The above symptoms are usually temporary and subside over time.