What is the Breast Reduction Surgery Cost in India?
---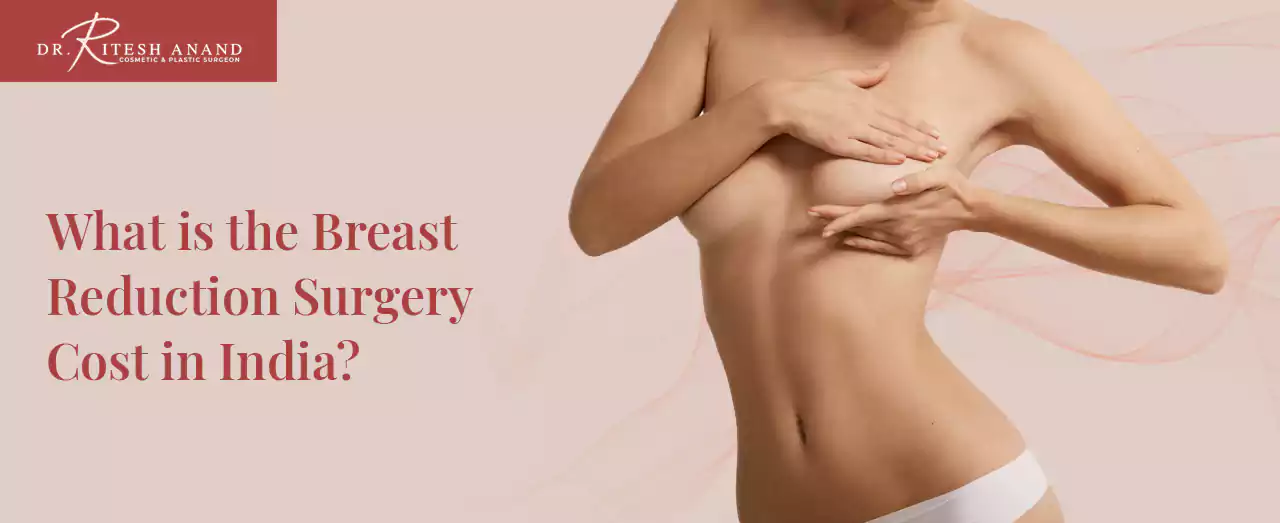 Category: Breast Lift
Are the large breasts disproportionate to your body contour? Are your breasts too heavy, making you feel uncomfortable? Or do you have a back and neck ache due to oversized breasts?
Not to worry anymore. Breast reduction surgery in females can help eliminate excess breast tissues and fat surgically while reducing the discomfort caused due to uncomforting large breasts.
Nonetheless, the advantages of breast reduction surgery go way beyond aesthetic appearance. Some women deal with painful chest, back, neck, and shoulders, and the radiating pain can be excruciating.
Women with heavy chests can make them conscious and lose interest in physical activities. While breast reduction surgery can relieve uneasiness and help boost self-image, one may be curious and sceptical about the cost.
The cost of cosmetic procedures generally is on a higher range and heavy on pockets for many. However, this article explores
Everything you need to know about breast reduction surgery in India,
The associated cost,
And why Dr. Ritesh Anand is the best for breast reduction surgery in India.
Table Of Content:
1. What is Breast Reduction Surgery?
Breast reduction is a cosmetic surgical procedure that helps reduce breast size and shape of the breasts. Medically, termed as "Reduction mammoplasty," women with large breasts can undertake this procedure. This procedure is designed to remove extra tissues and fat cells from oversized and uncomforting breasts.
2. Procedure and Techniques involved in Breast Reduction Surgery
Breast reduction surgery in guraon requires anaesthesia administration followed by essential steps, including
The surgeon makes a small incision near the areolar region (the dark region around the nipples) and at the bottom of the breasts,
The excessive tissues are removed,
The breasts are lifted to be contoured,
The incisions are closed to reshape the breasts,
The patient can visualise the results immediately post-surgery,
There are possibilities of slight swelling that eventually reduces, and incision lines fade over time,
Removal of extra fat tissues and reshaping breasts can involve either or both of the below-mentioned techniques.
A traditional surgical technique: Conventional equipment is inserted into the incisions to reduce the breast tissues to the desired levels.
Liposuction: This technique applies to the suction of fat tissues from incisions.
3. Breast Reduction Surgery Cost in India
Breast reduction costs are highly variable in India. The cost of breast reduction in India usually depends on numerous factors, including
The technique adopted during the procedure,
The city,
The clinic's facilities,
The experience and expertise of the surgeon,
Amount of tissue eliminated,
Type of breast reduction- unilateral or both breasts.
Considering the cost-affecting factors, here is a table showing the approximate cost of breast reduction in major cities across India.
| | |
| --- | --- |
| Name of the City | Approx Cost Range in Rs. |
| Delhi | Rs. 70,000 to 1,60,000 |
| Mumbai | Rs. 80,000 to 1,50,000 |
| Bangalore | Rs. 75,000 to 1,60,000 |
| Hyderabad | Rs. 90,000 to 1,50,000 |
| Chennai | Rs. 70,000 t0 1,50,000 |
| Kolkata | Rs. 60,000 to 1,25,000 |
| Ahmedabad | Rs. 50,000 to 1,50,000 |
Please note: The costs mentioned above are subject to change.
The cost of mammoplasty can go up to Rs. 2,45,000 depending on the variable factors. However, the average cost can range anywhere from Rs. 70,000 to 1,50,000.
4. Potential Benefits of Mammoplasty
Breast reduction surgery comes with a bag full of benefits for those with pain and discomfort due to large, heavy, oversized, or disproportionate breasts. Some of the notable benefits include
Visible reduction of breast size,
Desirable shaped breasts,
Relief from chronic and radiating neck, chest, shoulder, and back pain,
Improved posture,
Reduced discomfort and uneasiness,
Reduced irritation, rashes, or infection of the skin, especially under the breasts,
Boosts confidence and self-image,
Ease while performing physical activities,
The comfort of sleep improves with reduced breasts.
5. Why choose Dr. Ritesh Anand
At Dr. Ritesh Anand's clinic, you will get the best breast reduction surgery experience. Dr. Ritesh Anand is a highly experienced and qualified cosmetic and plastic surgeon in gurgaon. He has expertise in various cosmetic procedures, including mammoplasty. He prioritises the patient's requirements and treats them in-depth by understanding the underlying condition.
He has a well-trained staff and adopts high-end technology to give you the most comprehensive treatment and care for your aesthetic needs.
6. FAQs
What is a good age for breast reduction?
The ideal age for breast reduction is when the breasts have stopped growing, i.e., after 16 or 18 years.
Is breast reduction painful?
Breast reduction is usually performed under general anaesthesia and does not cause pain or discomfort. However, as the anaesthesia effect subsides, pain may alleviate. The doctor usually prescribes pain relievers for post-operational discomfort, with the occasional placement of ice packs over the surgical site to reduce swelling and pain.
Are there risks to breast reduction?
Breast reduction surgery is a relatively safe procedure with minimal risks. However, rare possible complications post-surgery include
Bleeding,
Infection,
Adverse reaction to anaesthesia,
Scarring,
And bruising.
The above symptoms are usually temporary and subside over time.
7. Conclusion
Breast reduction surgery or mammoplasty is a cosmetic surgical procedure where breast tissue removal and contouring are vital to relieving one with abnormally oversized or disproportionate breasts. The surgery aims to eliminate the excess tissues through small incisions and liposuction.
Dr. Ritesh Anand is the finest cosmetic surgeon who will guide you through this procedure. He has more than 16 years of experience with specialisation in various streams of cosmetic and plastic surgical procedures, including breast reduction. He and his staff will leave no tables unturned to give you the precise and desirable treatment for your aesthetic concerns.