COSMETIC SURGERY VS PLASTIC SURGERY
---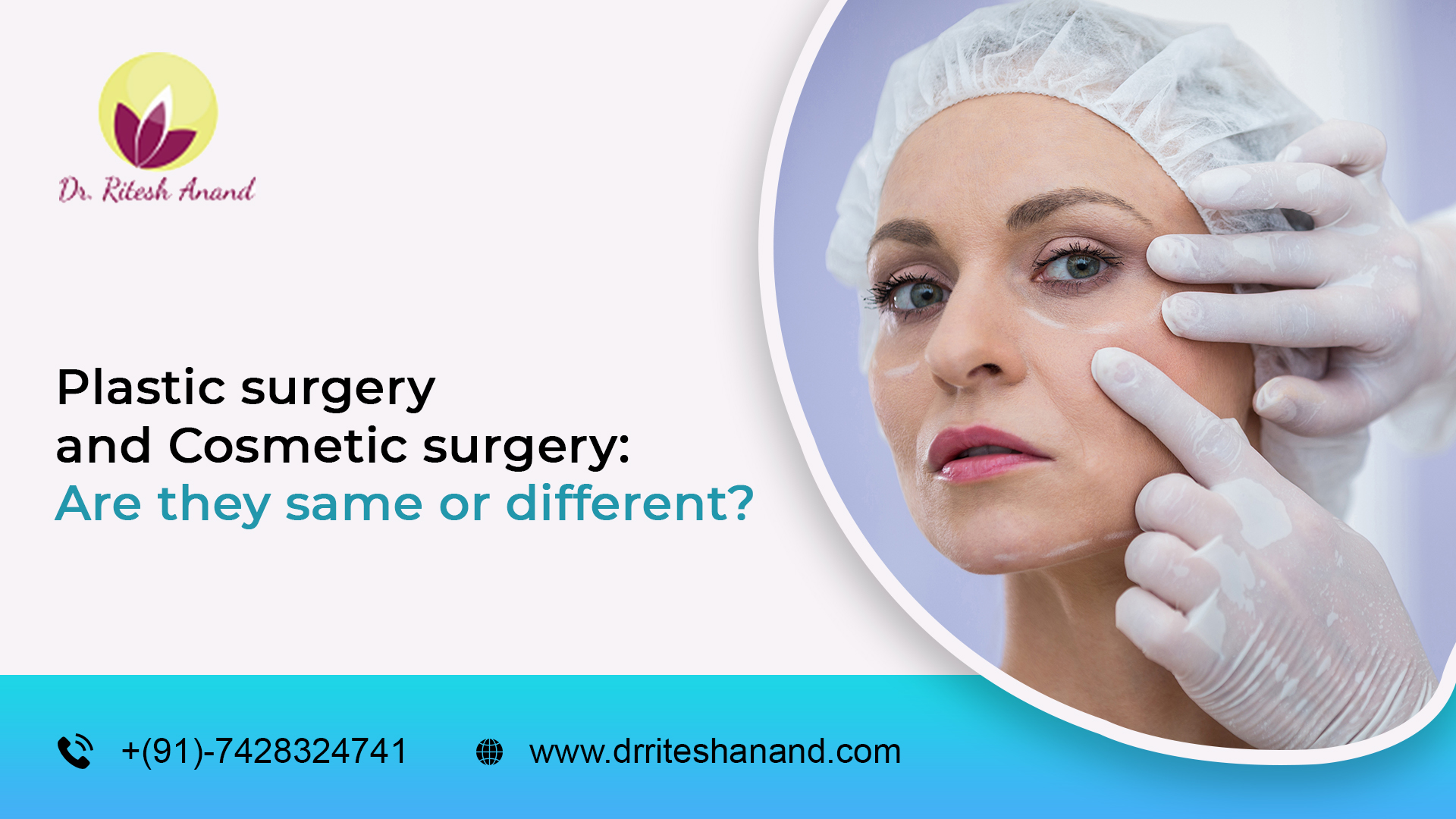 Category: Cosmetic Surgery
The medical speciality that is used to improve bodily functions and appearance, treat a pathological condition such as a disease or injury, or to restore a ruptured area, is known as surgery. The two most common types of surgeries are plastic surgery and cosmetic surgery.
This article will provide you complete information related to Cosmetic Surgery vs Plastic Surgery by making you understand what is cosmetic surgery and plastic surgery including their sub-disciplines, the difference between plastic surgery and cosmetic surgery, etc.
Table of Contents
Feel free to skip ahead if one topic catches your eye:
PLASTIC SURGERY AND COSMETIC SURGERY: THE DIFFERENCE
Many people got confused between plastic surgery and cosmetic surgery. Both the specialities are closely related. The difference between plastic surgery and cosmetic surgery is given here:
PLASTIC SURGERY
It is a surgical speciality. It is used to re-design, repair, and modify the human body. Sub-disciplines of plastic surgery include aesthetic surgery, burn surgery, hand surgery, craniofacial surgery, microsurgery, and pediatric plastic surgery.
Why is plastic surgery called plastic surgery? Now this question may arise in your mind. The name plastic surgery is not taken from a synthetic substance. This is derived from the Greek word plastikos which means the art of modelling or reshaping.
Procedure: Some of the common procedures of plastic surgery include:
Mastectomy or Lumpectomy: Breast reconstruction
Cheiloplasty: Correct cleft lip
Palatoplasty: Correct cleft palate
Reconstruction of various defects
Dermabrasion: Skin surgery (acne scars, wrinkles, age spots, etc.)
Techniques: The most common and popular procedure in plastic surgery is the transfer of skin tissue (skin grafting). These grafts can be taken from the recipient or donors:
Side Effects: The most common complications that may arise during the procedure of plastic surgery are blood loss, infection, scarring, blood clots, nerve or organ damage, etc.
COSMETIC SURGERY
Cosmetic surgery is a voluntary surgery that is performed to make a person attractive and remove signs of aging.
Procedure: Some of the most common procedure of cosmetic surgery are as under:
Liposuction: Removal of abnormal fat deposits
Abdominoplasty: Tummy tuck
Gynecomastia: Male Breast correction
Buttock Augmentation: Butt implant
Lip Augmentation: Lip surgery
Otoplasty: Ear surgery
Brachioplasty: Arm lift
Blepharoplasty: Eyelid surgery
Breast Augmentation: Breast implant
Rhinoplasty: Nose job
Rhytidectomy: Facelift
Laser Resurfacing: Skin rejuvenation
Botox: Wrinkles reduction
Fillers: Facial Ageing
Side Effects: Mild bleeding, infection, seroma formation, scarring, temporary numbness etc. are some of the complications of cosmetic surgery.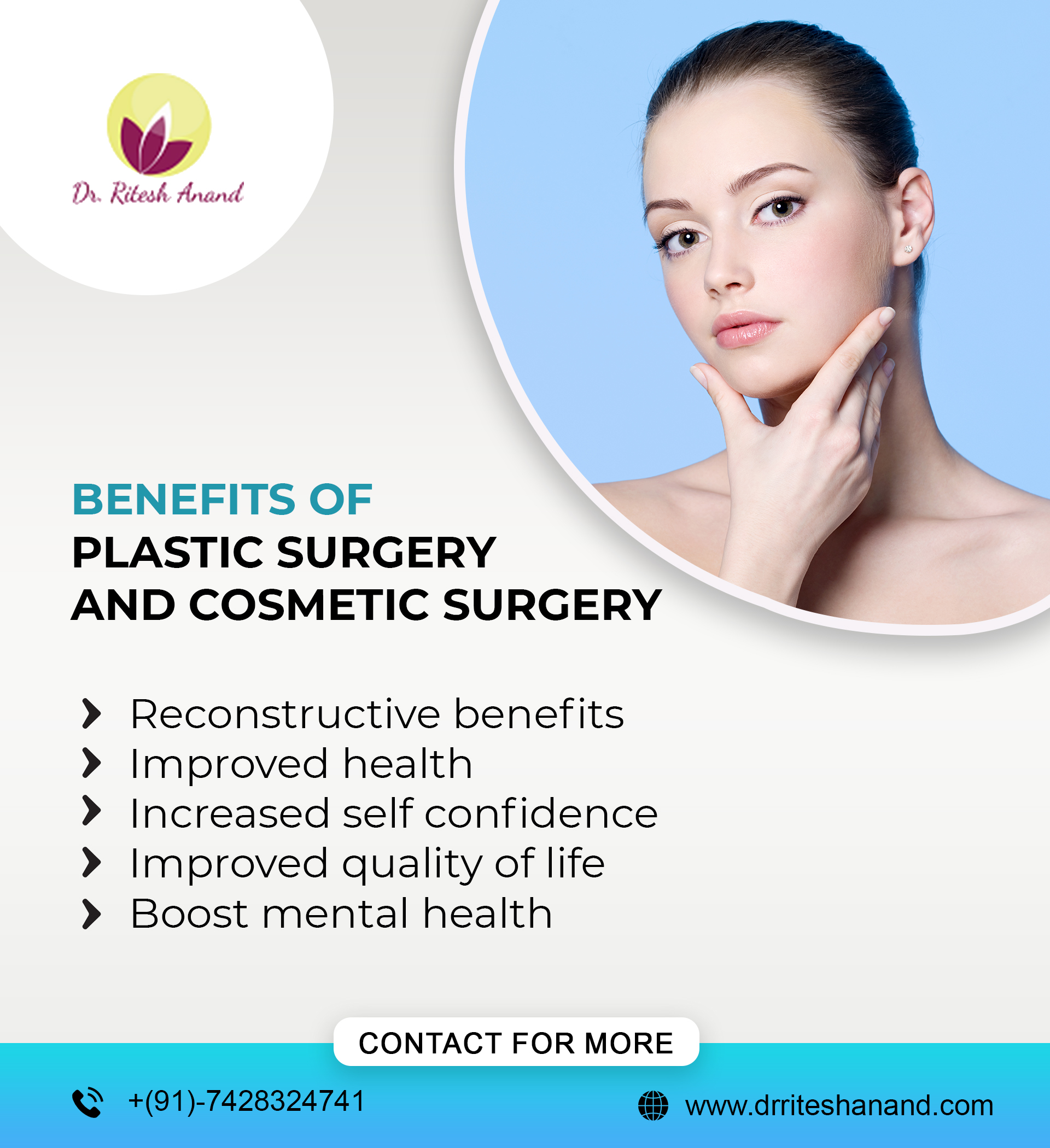 PLASTIC SURGEON VS COSMETIC SURGEON
The difference between a plastic surgeon and a cosmetic surgeon may arise in various ways. These include:
Education: They both are required to complete graduation (MBBS) from medical college, training in General Surgery (MS/DNB), and complete a five-year MCh from a recognized institute to get super specialization in the field.
Certifying Board: The plastic surgeons are certified by the Association of Plastic Surgery of India (APSI) while the cosmetic surgeons are certified by the Indian Association of Aesthetic Plastic Surgeons (IAAPS).
Residency Program: In the residency program of cosmetic surgery vs plastic surgery, it is concluded that plastic surgery includes some portion or basics of cosmetic surgery also in the surgeons training. While the training program of cosmetic surgery focuses only on the procedure of cosmetic surgery.
Skills Required: A plastic surgeon must have some basic skills such as communication skills, interpersonal skills, motor skills, technical skills, excellent vision, team management, stamina to cope with a busy schedule, etc.
The skills required for a cosmetic surgeon include a detailed knowledge of anatomy, a very good aesthetic sense, ability to work for long durations, and to accept criticism, thinking and reasoning skills, pay attention to details, etc.
Time Required: To become an established plastic surgeon one may require a period of about 12-13 years which includes training and education. While to become a good cosmetic surgeon one may need to train himself in the field of cosmetic surgery for another 4-5 years, so it makes take about 16-18 years to become a good cosmetic surgeon.
Take Away
Dr Ritesh Anand is one of the well known and best cosmetic surgeons in Delhi. He has the highest qualification (MBBS, MS, MCH) in the field. He has experience of 16 years in all subspecialties of cosmetic & plastic surgery. He always uses modern techniques for the treatment. Dr Anand is also a member of the International Society of Aesthetic Plastic Surgery (ISAPS), Indian Association of Aesthetic Plastic Surgery(IAAPS), Rhinoplasty Society of India and Association of Plastic Surgeons of India(APSI).