Eyelid Surgery
---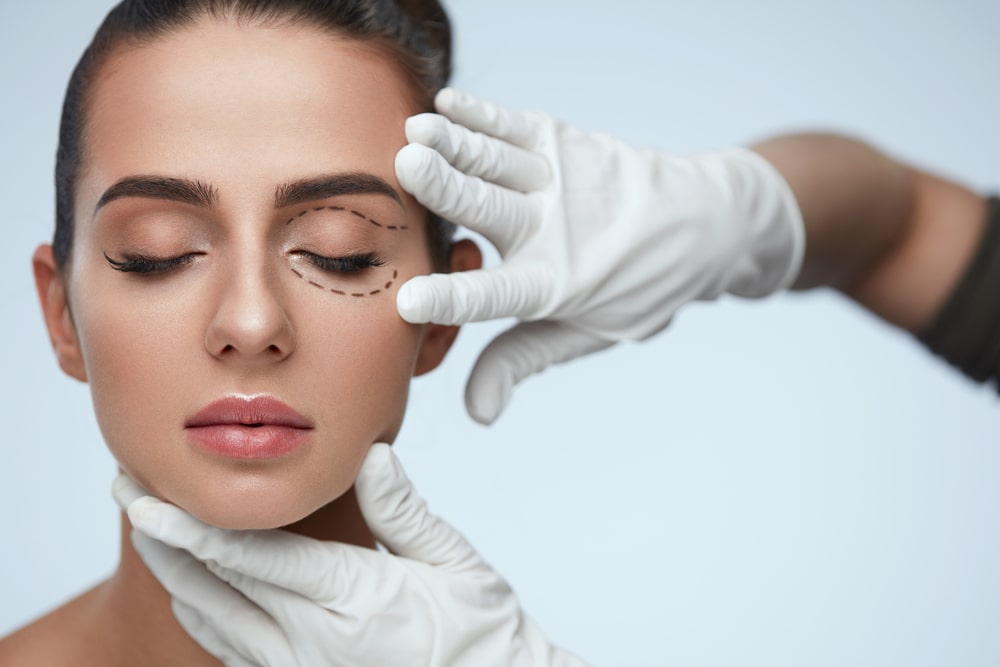 Category: Eyelid Surgery
Eyelid surgery (blepharoplasty or eye lift) decreases the bagginess of lower lids and eliminates excess fat/skin from your upper lids. It can also improve vision in older people whose saggy upper eyelids interfere in their vision.
Dr. Ritesh Anand, a renowned plastic and cosmetic surgeon in Delhi with 16 years of surgical experience, offers excellent blepharoplasty surgery. He blends the most advanced technologies with his treatment methods, ensuring the best possible results.
Procedure
Eyelid surgery is a typical outpatient procedure. It needs sedation and local anaesthesia. It can take 30-60 minutes as per whether both your upper or lower eyelid is receiving surgery. If all the 4 eyelids are getting treated, the whole procedure must take about 2 hours. The doctor would most likely provide you with oral sedation and local anaesthesia (a painkiller that's injected around your eye).
You would also most likely get an IV sedation if your eyelid surgery is being performed at a surgical centre or hospital.
If all your 4 eyelids are being treated, your surgeon would probably work on your upper eyelids first. In upper eyelid surgery, incisions are made in lines along the natural creases of the eyelids. Then excess skin and fat deposits are removed. A strip of orbicularis oculi surrounding your eyelids might be removed for deepening your lid crease. The stitches in your upper eyelids would stay for 3-6 days.
In lower eyelid surgery, an incision can be done on the inside of your lower eyelid or exactly below your lower lash line. Based on the method, fat is removed or redistributed or excess skin in your eyelid is eliminated. The surgeon may use erbium or CO2 laser for softening the fine lines in your skin. Any cut line that's made, fades after a short duration.
After surgery, the incisions are closed with surgical tapes, skin adhesives or removable sutures.
Preparation
You must arrange for someone to stay with you the night of the surgery and drive you home after blepharoplasty.
Expect and plan to take leave from work, stay at home and restrict your physical activities for several days post-treatment while the eyelids recover.
At home, keep the following items ready:
Ice cubes


An ice pack (or freezer bags filled with frozen peas or corn or ice) Small gauze pads


Artificial tears or eye drops (ask the doctor to suggest the appropriate type for meeting your specific needs) Clean towels and washcloths


Over-the-counter painkillers (that the doctor may recommend)


Don't use aspirin, Aleve, Naproxen, Motrin or Advil because of the increased risk of bleeding.





Types of Eyelid Surgery


Eyelid surgery is of two types:


Functional Blepharoplasty It eliminates your excess skin which hinders the field of vision. If the treatment is determined as medically required, medical insurance may cover it. How much your vision is impacted would be determined by testing the visual field using an HVF (Humphrey Visual Field) Analyser.


Cosmetic Blepharoplasty It can be done on your lower or upper eyelid or both. According to the kind of lower eyelid surgery, excess fat is removed or redistributed or excess skin in your lower eyelid is removed.





How Long Does It Take To Recover From Eyelid Surgery?




After eyelid surgery, you'll receive particular instructions regarding post-treatment medications and follow-up examinations.

You might experience some irritation, bruising swelling or dry eyes. However, such symptoms are usually mild. Most swelling subsides within 2 weeks. You mustn't wear eye makeup or contact lenses for 2 weeks. The stitches would normally be removed by the 3rd or 4th day after treatment. For the next 2 weeks, you may wear dark sunglasses for protecting the eyes from the sun and wind. You may retrieve work in some days or 1 week but must avoid strenuous activities and exercise for at least 2 weeks.





What Is The Average Cost For Eyelid Surgery?

The cost of eyelid surgery varies based on the severity of your case and the type of procedure performed on your eyelids.

In India, the cost of blepharoplasty including the surgery for both your upper and lower eyelids is around 80,000 INR to 2,00,000 INR on an average.