Hair Loss: Symptoms, Causes, And Prevention
---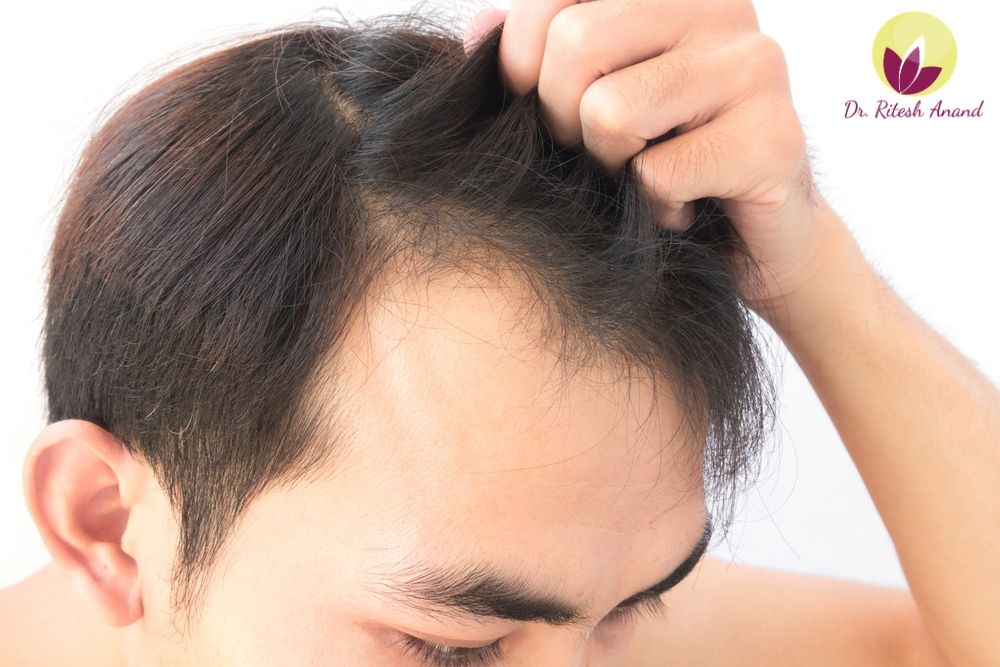 Category: Hair Transplant
Hairs have their own life cycle. They grow and shed in a recurring fashion. This meaning that you should not worry about losing some of your hairs daily. Ideally, these lost hairs are replaced by new hairs. However, the condition when the loss is in excessive proportion and is not replenished, you should take it seriously. This can lead to visible hair loss and baldness in some cases. Also, you can lose hair for a brief period or permanently. But the good news is that hair loss is not a big issue anymore. Technological advancement has brought several methods and techniques to re-grow hairs. These methods are effective in treating almost all sorts of hair loss. Dr. Ritesh Anand is an expert in the field with nearly 16 years of rich and diverse experience. He has given a renewed life to many patients with his excellent and precise treatments and expert advice. He believes in early detection and effective solution to the problems. At his clinic, assisted with the latest equipment, he offers painless procedures with reliable results. Identifying symptoms we in time can help you determine the underlying cause. This lays the foundation for accurate treatment and exceptional outcomes.
Symptoms
Hair loss can occur due to many different reasons and therefore occur in different forms. It can be eternal or short-lived and abrupt or gradual. It is mostly referred to as the loss of hairs from the scalp but can also affect the entire body. Some commonly noticed symptoms of hair loss are the following.

• A sudden increase in visible hairs on the pillow or shower
It is an obvious way to identify hair loss. Notice your pillow in the morning or your towel after taking a shower. If the number of hairs you see is increased or seem unnatural, consult your practitioner for advice.
• Gradual loss on the top of the head
It is one of the most commonly seen signs both in men and women. While men have to deal with a receding hairline, women face a broaden partition.
• Circular bald spots
You may notice coin-sized bald spots on your scalp, beard, or eyebrows. You may experience itching before the hairs fall.
• Scaling patches over the scalp
Another sign of hair is scaling patches with swelling, broken hairs and redness on the scalp.
• Hair loss from the entire body
Total body hair loss occurs usually because of some medical condition and treatment. In such cases, hairs normally grow again, once the treatment is over.
When to see a doctor
Most people do not prefer a medical consultation for hair loss at once. It is not wrong in most of the cases. Hair loss can be due to many reasons. In many cases, your hairs will re-grow on their own. However, if you feel bothered with the hair loss, you should talk to an expert. Patchy baldness or suddenly increased hair fall while brushing or washing hairs is also a sign to visit a doctor. Sudden hair loss can also signal some medical conditions. It is advisable to immediately see a specialist if you notice an abrupt loss of hair.
Causes
The main cause of hair loss problem is the damage of hair follicles. The roots can either be covered by a scarred tissue or can be destroyed. This disrupts the growth cycle of hairs and leads to the fall of more hairs.

• Heredity
It is one of the most common causes. If your parents or close siblings have suffered baldness, you are also prone to the problem. This is mostly associated with male and female pattern baldness.
• Hormonal fluctuations
Many conditions like pregnancy, child-birth, thyroid, etc result in abrupt and frequent changes in the hormones. This leads to permanent or temporary hair loss.
• Medical conditions
Medical conditions like hair-pulling disorder, infection on the scalp can also lead to significant loss of hairs.
• Treatments and Therapies
Hair loss can occur as a side-effect of many drugs. Often drugs used in treating cancer, arthritis, depression, etc cause hair loss.
• Under-Nourishment
Hairs need protein and other nutrients to grow. If you are not taking a balanced diet, you may experience hair loss due to deficiency.
• Stress
Another important and prominent reason is stress. If you have been through a testing time and have faced physical or mental shock, it can cause potential hair loss.
• Over-Styling
Excessive pulling and using heating and styling instruments cause potential damage to hairs and contribute to hair fall.
Risk
Several factors increase your risk to fall prey to hair loss.

• Baldness running in the family tree
• Aging
• Sudden weight loss
• Emotional and physical stress
• Medical conditions
Prevention
Although there is no way to prevent hair loss caused by heredity. But you can take some preventive measures to avoid general hair loss.

• Avoid over-styling
• Avoid excess of medication
• Protect hairs from sunlight and harsh hair products
• Eat a nourishing diet and quit smoking
• Nourish your hairs and roots with oiling and massage

Dr. Ritesh Anand helped many patient in treating their hair loss problem. Many of the patient realise late about the hair loss problem. Hair transplant is the only option for those people who wants their hair back. Dr. Ritesh Anand is the best hair transplant surgeon in Delhi and he offered the best hair transplant in Delhi with 100% result at bare minimum cost.
More Information
Hair Transplant Surgery: All You Need To Know
Hair Transplant